Create a New Project for DWS
BizStats.AI. DWS answers as analysis, visualization and insights for your business questions directly from your connected cloud data warehouse.
DWS represents Data Warehouse Searchable. This will not transfer your data from the cloud data warehouse. Just connect your data warehouse and start getting insight quickly.
Pre requirement : User needs to login into BizStats.AI Application
(How to login)
Step1
Create a new DWS project in BizStats.AI to make your data searchable. Click "Create new project" in the project list page. 

Step 2
For project creation fill the following details
Project type - Select this option "I have my data warehouse, make it searchable".  
Name             - Give some meaningful name for your further reference.  
Team              - Select a team from the drop down.
Description.   - Give some description about your project (optional).
There will be five stages of project creation: Connections, Sources, Configuration, Relationships, Mapping and Details page.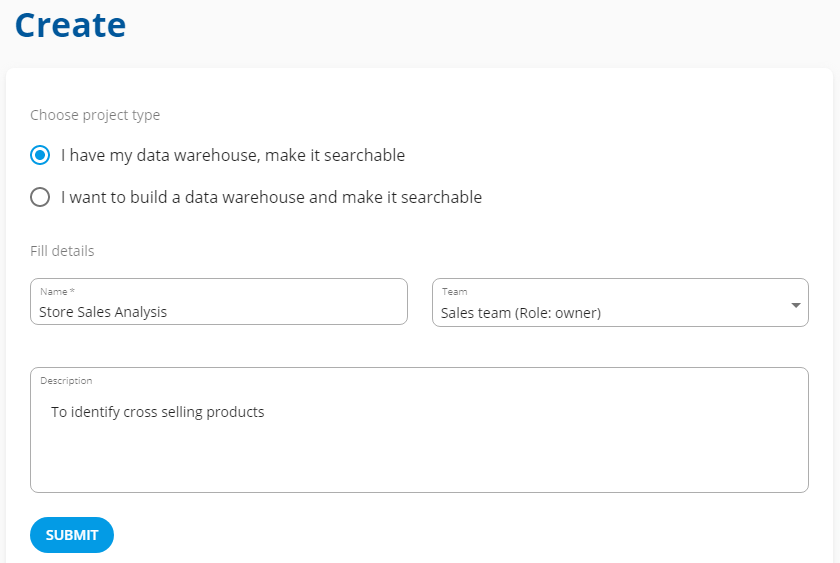 Step 3
Select your appropriate cloud data warehouse to create a connetion. BizStats.AI currently supports the following data warehouse, How to create connection.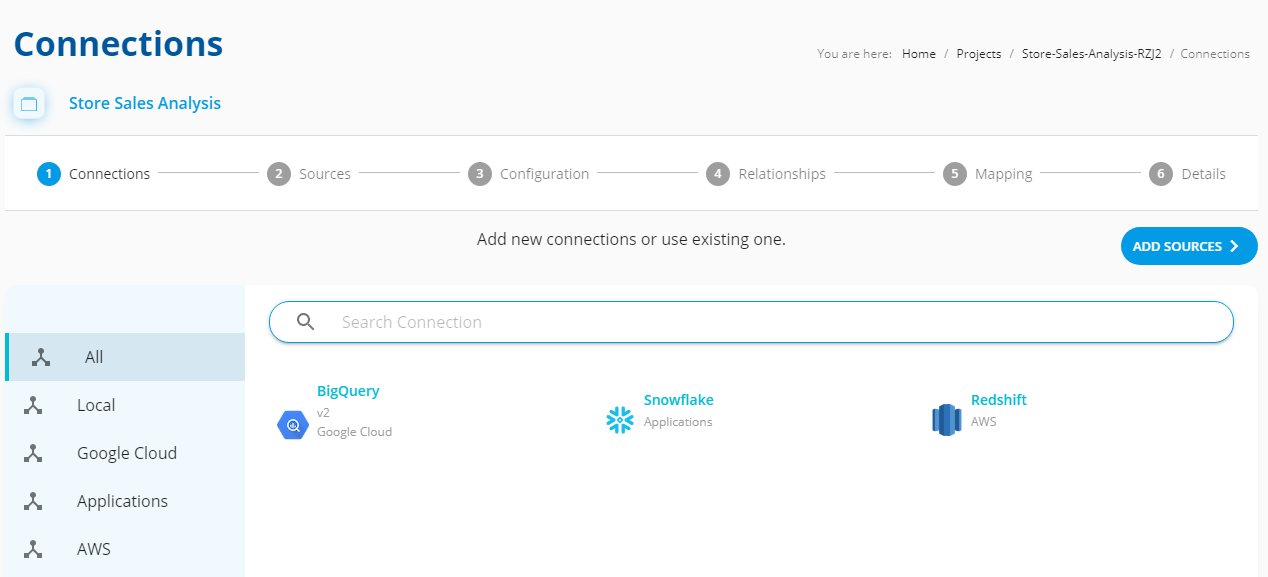 Step 4
Create a new connection by filling the following details. To validate your connection details use the "Test" option. If the test is successful now "Connect" your database.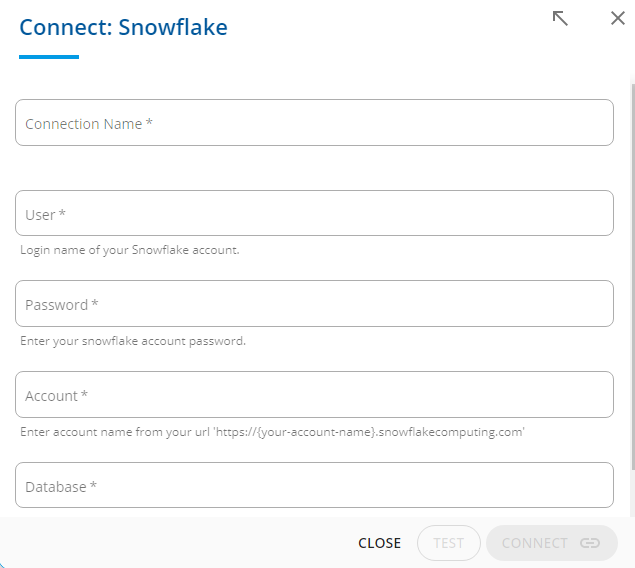 Step 5
After creation of successfully connecting with your data warehouse. Your datasets/schema/tables  will be displayed here in that you can select a specific source or select all the tables. Select your source and click "Configure Selected Sources". How to select a source?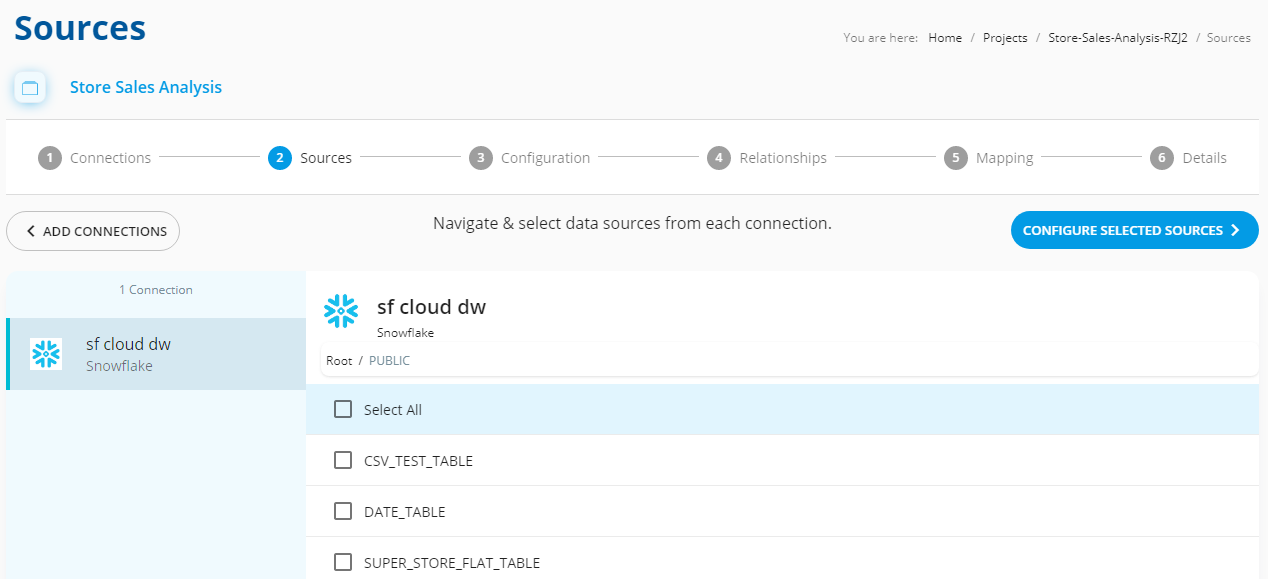 Step 6
In this Configure page, 
Your selected source will be displayed here in tabs.
You may find display name, data type, field type, additive type/ date time format and designation.
Field type is automatically detected by BizStats.AI on the basis of name and data type. (Ex: Measure, Attribute, Primary Key, Foreign Key, Dimensional measure).    

If you want to exclude any fields/columns from the final report, you can choose the "Exclude" option in field type. 

Configure your source and click "Related sources". How to configure?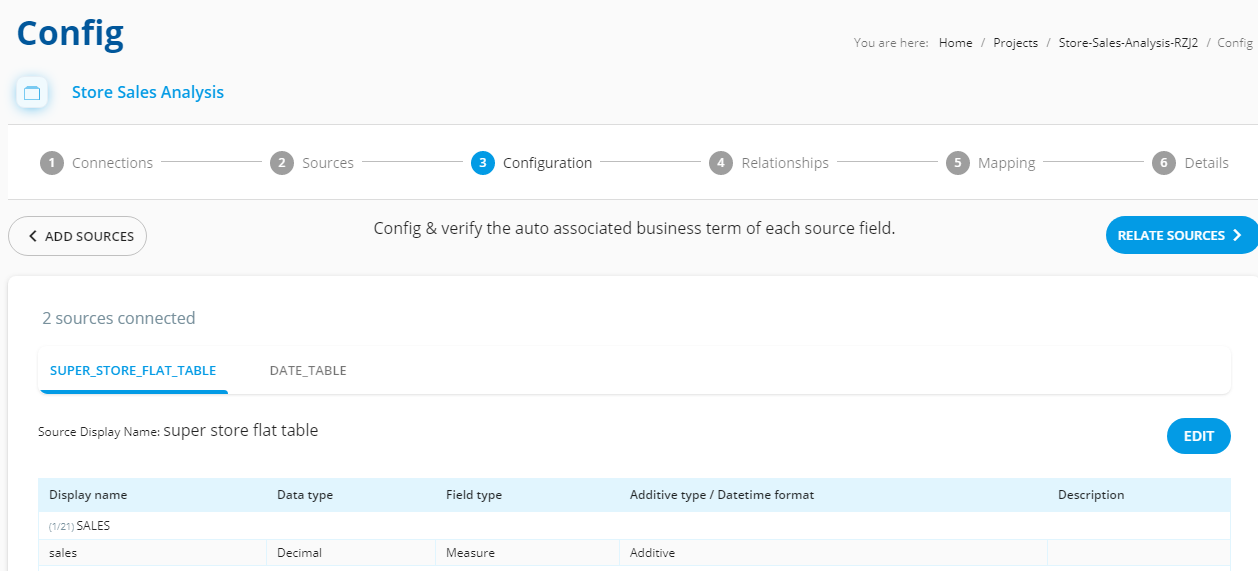 Step 7
To create relationships (Joins) between facts and dimensions. Click "Save relationship" for further process. How to create relationship?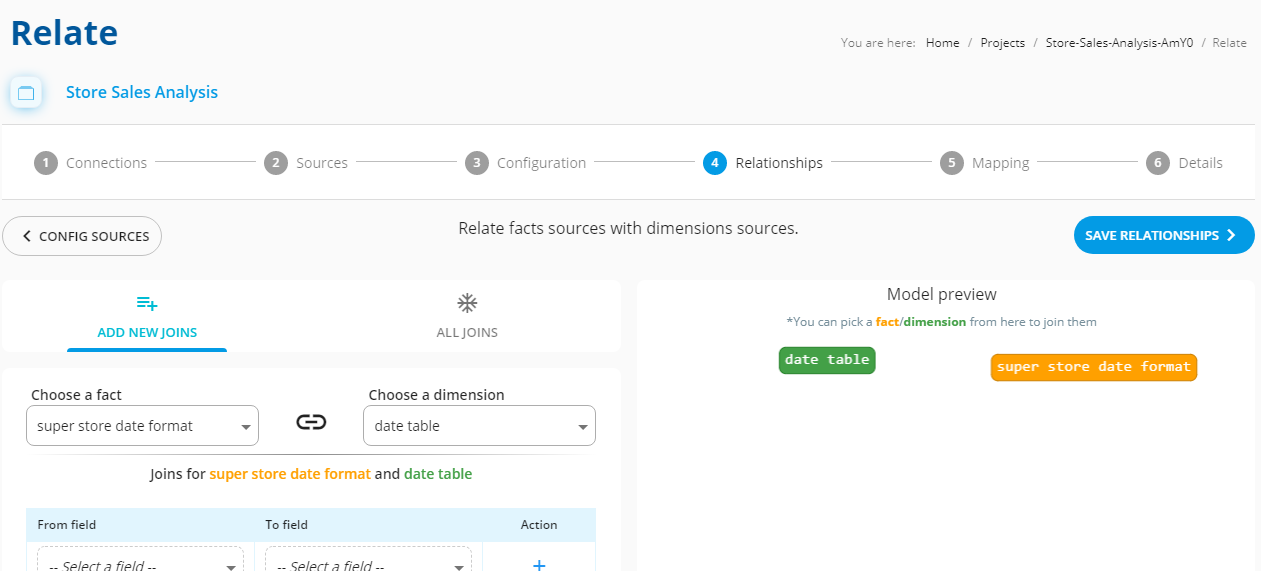 Step 8
Verify your source field mapping with business terms and join conditions between sources. Press "Done" for further process. How to verify mapping?
Note: It may take a few minutes to process the Data model, data index and Searchable.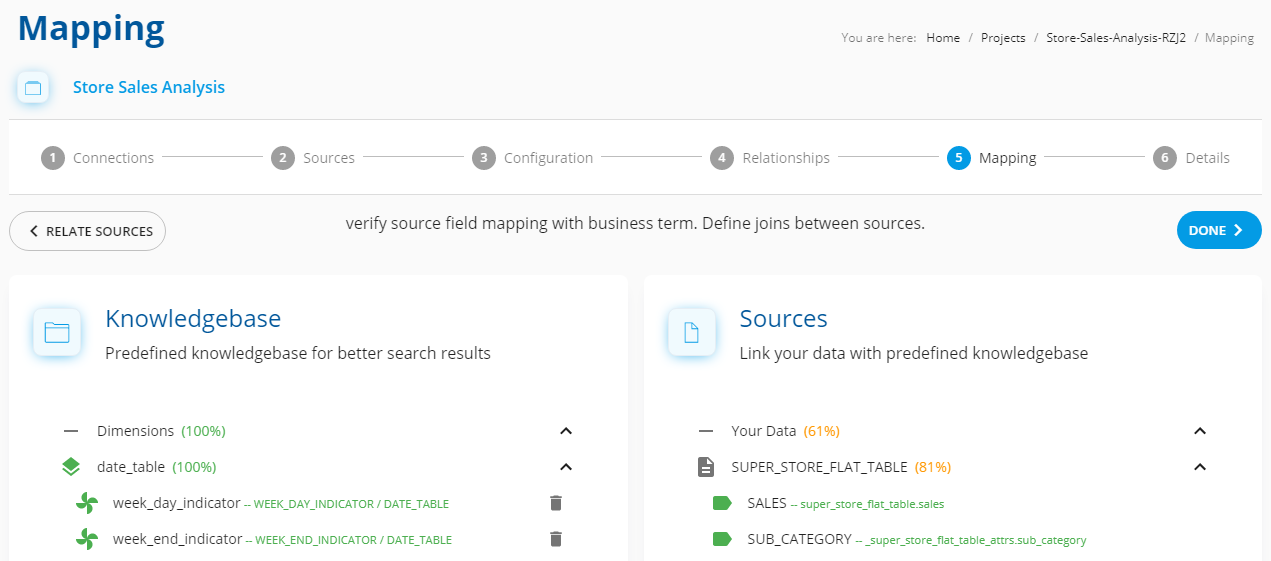 Project detail page 
All the processes of your project have been completed successfully and now it's ready for searchable.  How to find project details?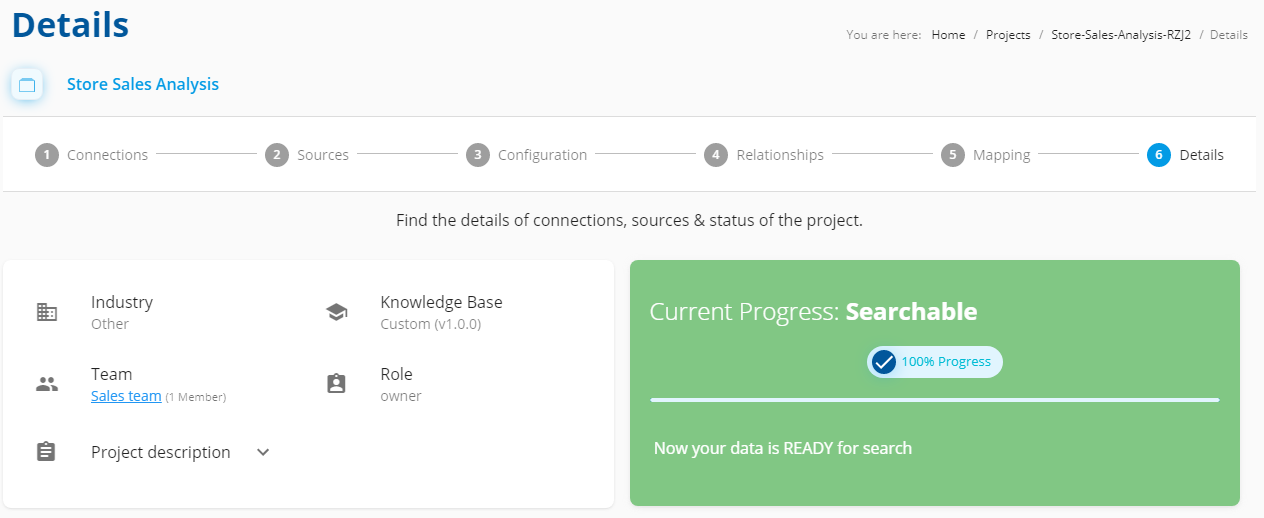 The Source page displayed your status and progress of your data warehouse project.

Your data model will be displayed in a detailed page.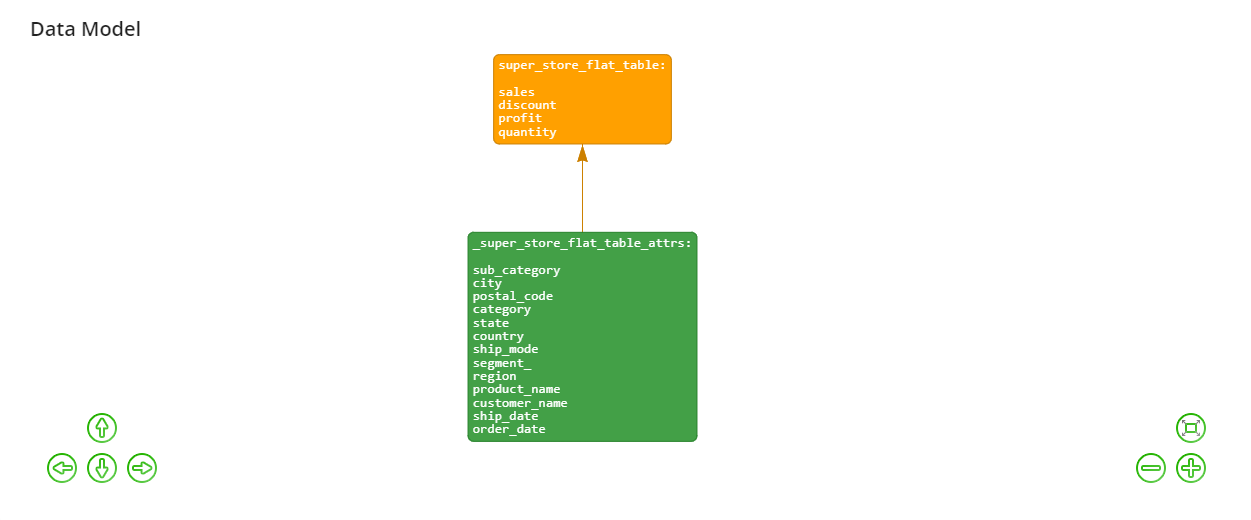 "Search page / Data Maps / Search Terms" use these option to do Search Analytics