Search 
Bizstats search discover content based on keywords mentioned in your search query. You can use the keywords list given below to define your search.
Search-based data analysis benefits:
Quick and easy data access helps in real-time decision making. Search to analyze the data approach is much faster, compared with the traditional "drag and drop" approach Anyone in the organization can analyze big data by asking natural language questions or typing searches, just like a web search engine. Ability to build your desired reports with a quick search.
Use the following option to do Search Analytics:
Query structure:
    Average sales amount by product category for year 2018
| | | | | | |
| --- | --- | --- | --- | --- | --- |
| Average | sales amount  | by | product category | for | year 2018 |
| Agg | Msr |   | Attr |   | time-attr data  |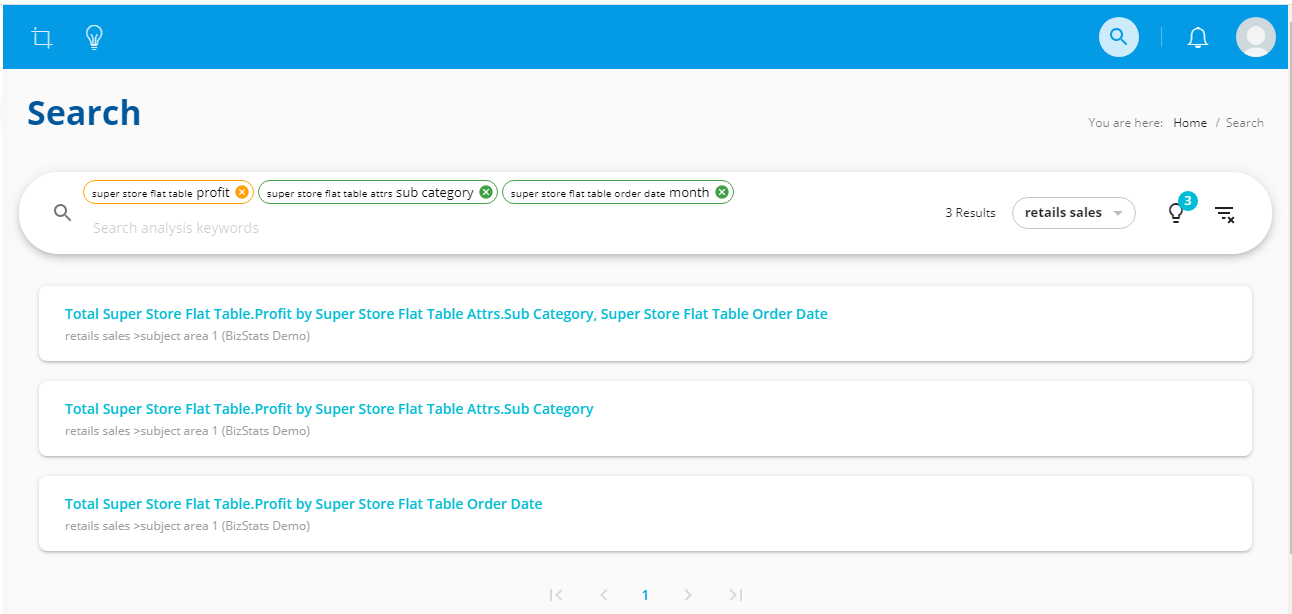 Keywords supported
Type
Keywords
Analysis

Top
Bottom 
Top n
Bottom n

Date
Today, Tomorrow, etc
Msrs
Sales, Profit, etc ( project specific )
Attrs
Product, Store, etc ( project specific)
Aggregations
Sum, total, average, min, max, count
Calculations
YTD, MTD, WTD, monthly, quarterly, yearly
Data
City name, product name, etc ( project specific)
Query samples
Timeline Keywords
Keywords
Example queries
year

Sales transaction gross profit of electronics by sales transaction date year

quarter
Sales transaction cost of electronics by sales transaction date quarter
month
Sales transaction gross profit of electronics by sales transaction date month
week
Sales transaction quantity of electronics by sales transaction date week
day
Sales transaction amount of electronics by sales transaction date day
year
Ex: 2016 | 2017
Sales transaction amount 2016
Sales transaction amount by product name  sales transaction date year 2016
Sales transaction cost product category Sales transaction date year 2017 2016 2015

month year
Ex: Jan 2016 | January 2016

Sales transaction profit February 2016
Sales transaction quantity Sales transaction date month February 2016
month
Ex: Jan | January
Sales transaction cost January
Timeline calculation Keywords
Keywords
Example queries
YTD
(year to date)

Sales transaction amount YTD by product category
Sales transaction amount Sales transaction amount YTD by product category as of 20 feb 2016

QTD
(quarter to date)
Sales transaction quantity QTD by product category
Sales transaction quantity Sales transaction quantity QTD by product category as of 15 oct 2016
MTD
(month to date)
Sales transaction profit MTD by product category
Sales transaction profit Sales transaction profit MTD by product category as of 12 sep 2016
WTD
(week to date)
Sales transaction amount WTD by product category
Sales transaction amount Sales transaction amount WTD by product category as of 15 aug 2016
Aggregation Keywords 
Keywords
Example queries
sum

sum Sales transaction amount by month
sales transaction amount by month

avg, average
average revenue by store
average sales transaction amount by month
max
max sales transaction amount by year by product name
min
min sales transaction gross profit by month by product category
unique count (distinct count)
unique count visitor by product page last week
count
count visitors by site